Project Area
Site Area: 1.7 acres
Pre-Renovation: 43,000 s.f.
Post-Construction: 63,500 s.f.
Phase Three Expansion: 8,500 s.f.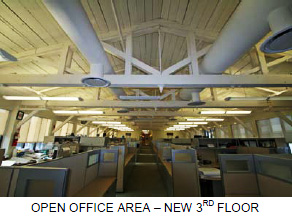 Solution
D'Amore Design Studio undertook the project with an initial study of the existing structure of the building to determine the capacity of the existing columns and foundation to support the additional loads.
The solution to the program was to create private offices and an open office area at the new 3rd Floor and to connect existing mezzanine floors at two separate levels. The renovation features exposed heavy timber wood trusses, new zoned air conditioning systems and new roof and wall insulation.
The exterior was cleaned and painted and all windows and doors were replaced. Doors and exterior stairs that had been added in previous renovations were removed and masonry openings were returned to their original sizes to restore the facade.