Project Area
Site Area: 1.2 acres
Floor Area: 70,000 s.f. per floor.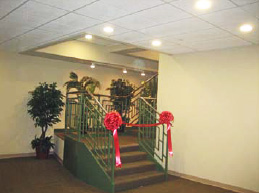 New Interior Stair
Solution
D'Amore Design Studio created a new stairway directly across the hall from the present secure entrance.
The new design includes over twenty private offices and conference rooms, and 46 cubicle stations.
The design was developed such that all cubicles have access to natural light, and the interior offices have side lites beside the doors to also allow access to natural light.